Coastway 2000: A Fine Line Across Southern England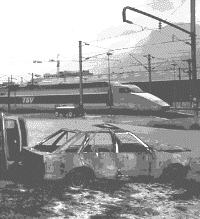 Back in 1995 SCAR proposed a new rail strategy for the south coast called Coastway 2000. We said upgrading the South Coast rail lines would bring about a significant increase in rail traffic. The rail alternative would benefit residents, tourists and business travellers alike. Crucially it would help regenerate Hastings and many other towns along the South Coast.
Coastway 2000 proposed total route modernisation of the Ashford to Brighton East Coastway line; improvements at Brighton, a major interchange; general upgrading of West Coastway lines; realignment and curve easing on the Havant/Portsmouth/Southampton line; and restoring double track from Southampton to Salisbury and Exeter.
(Since Travelling Light was published we are pleased to see that as far as the double tracking of the Salisbury to Exeter line and the chord at Yeovil are concerned, the local authorities have agreed this should be done. Whether it gets done is of course another matter).
It also proposes reinstating the Willingdon Chord and re-opening the Uckfield line in East Sussex; and a new spur line from Yeovil Junction to link with the Weymouth line. A further improvement would be to install a Chord at Ford enabling direct access onto the Arun Valley line from the east.
There are also opportunities for moving freight from roads onto rail. Most of the main centers on the South Coast have access to a rail line. If the current enormous subsidies to road hauliers were removed, the majority of freight in the south coast area could be delivered by rail in tandem with small lorries.
---

Back to SCAR Home Page