Buses, Bikes and Feet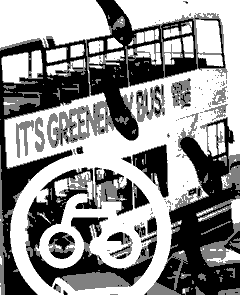 SCAR's strategy to improve transport within and between towns along the South Coast. Very few of the people using the existing A259, A27, A31 or A35 are travelling all the way from Folkestone to Honiton. Most are engaged on much shorter journeys which could be undertaken by public transport, cycling or walking. This would reduce car travel along the South Coast and eliminate the need for a superhighway.
The population of the South Coast is particularly suited to a level of public transport somewhere between the bus and a mainline railway. Light Rapid Transit (LRT) schemes are already being considered by Weymouth, Gosport and Hastings.
Bus journeys are very important along the South Coast, and there are opportunities to upgrade existing bus services and facilities. A Priority Network, frequent services, accessible travel information, cheap fares and a comfortable ride would all make travelling by bus more attractive
Rural transport services also need to be improved. More frequent services, post-buses and greater use of rural park and ride could help to reduce some of the pressure affecting villages along the South Coast Route. As many of the car journeys made on the main roads along coast are under five miles, the potential for increasing journeys made by bicycle is enormous. Adequate cycle parking, dedicated cycle lanes and planning for public transport to accommodate bikes are all important if cycling is to be encouraged.
The South Coast is also part of the National Cycle Network. With the input of local authorities, the network will include legs between Southampton and Portsmouth, Portsmouth and Newhaven, and Newhaven to Dover.
The British actually walk a great deal, but little is done to promote walking in towns. Much improvement can be made: crossings need to be convenient and quick; walkers should take precedence over cars and not be shunted into dark, dirty subways.
Women's use of transport has a particular relevance when providing decent public transport and walking facilities: 66% of the users of public transport are women, and women hold only 1/3 of driving licences.
Finally, by implementing the measures above - prioritising rail, buses, bikes and feet - South Coast town centres will be revived, environmental resources will be protected, and South Coast residents will, as a result, have a better quality of life.
---

Back to SCAR Home Page