South Coast Against Roadbuilding

Supporting Sustainable Mobility
Arundel a tale of two by-passes
Situated on the A27 - the main trunk road along the south coast - Arundel, along with many other towns and villages, suffers from the continuing increase in traffic pollution. Even in 1070 - the year history tells us Roger de Montgomery founded Arundel Castle - traffic was a problem. This time river traffic as well as road, as Arundel sits conveniently on the river Arun - hence it's name - and in those times of invasion and battles quite a chaotic place. The Arun, known by Romans as Trisantana (the great wanderer) measures 52 miles in length and is the fastest-flowing river in England.
By 1960 the town had enough. With the Beeching cuts in the rail network and road traffic increasing, Arundel campaigned successfully for a bypass, this was built about 1970. Clearly the town was overjoyed by the cut in noise and fumes as through traffic reduced, However Arundel's euphoria was soon overtaken by gloom, as the capacity of the A27 either side of the bypass was steadily increased with the upgrading each of the roads to dual carriageway
Today's Arundel is becoming concerned that all this extra traffic will soon overload the bypass.
So what's the plan? Well of course the pressure is on to build a second bypass, the infamous 'Bypass of the bypass'.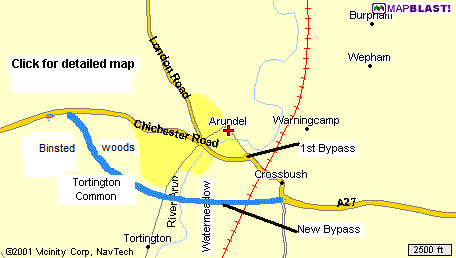 But the problem for decision makers is how to put a dual carriageway - as that is what a second bypass must surely be - across the Arun valley without damaging the important water meadows and views down the Arun valley, then how to cut through ancient woodland in the Binsted Wood area without great harm to that eco-system.
In the scheme put forward some years ago, a structure some 30 feet high was proposed to carry the traffic on the dual carriageway across the valley - the so called motorway on stilts scheme. Naturally there was uproar, as such an alien structure would destroy the setting of Arundel and the magnificent views down the Arun valley. It was even rumoured that Roger de Montgomery would rise up and join eco warriors to defeat the scheme.

As for the ancient woodland around Binsted and Tortington Common, these are important biological site of nature conservation value. They supports plant and animal communities that have developed over thousands of years. The proposed alignment for the road would split habitats and nature conservation sites into smaller and less viable areas.
Both Binsted Woods and Tortington Common are included in the National Park.

As you would expect, we believe the environmental cost is to great and any gain of reduced traffic congestion, soon lost as the extra road capacity is filled by induced traffic. A more sustainable approach than to build more road space would be to reduce the need to commute by car. Public transport must be made more user friendly and the need to commute to work over greater and greater distances reversed. Planners have a great responsibility to see that more goods are produced locally in the community.
However there are other options, and in order to explore one other, SCAR is very pleased that Nigel Searle MILT - a resident of Arundel - has kindly allowed us to copy here, the Arundel section from his authoritative work 'Transport Policy for the 21st Century'. Clearly this is just a taster of Nigel's work and we would recommend most highly that you read his complete work at: Click Here
Click to go to the reference documents for the 2015 bypass options.

(4.7) CASE STUDY: - ARUNDEL LOCAL ROAD NETWORK
(4.7.1) The Current Situation
Arundel is a small town in West Sussex, surrounded by a number of small villages. The Highways Agency A27 Trunk Road links Arundel with Chichester and Portsmouth to the west, and Worthing and Brighton to the east. The West Sussex County Council A284 links Arundel with Littlehampton to the south, and the South Downs and Sussex Weald to the North. Arundel is linked to London via either route although the preferred and sign posted route should be the Strategic Road Network via the A27.
All the other roads in the area are minor roads within Arundel or the small villages, or linking the small villages to each other or Arundel.
To define the Arundel Road Network for this case study, I have chosen the parishes of Arundel, Burpham, Lyminster, Poling, South Stoke and Warningcamp.
Map (4.1) The Arundel Road Network
Please note - the map does take a long time to download
Please save once downloaded
The only minor road that continues outside the above parishes is the Ford Road south from Arundel that was built and maintained by the railway who collected a toll until 1938 when ownership was transferred to West Sussex County Council. This road continues to Ford Railway Station beyond which are the villages of Ford and Climping where it meets the main A259 coast road between Littlehampton and Bognor Regis. However, there are other links between the A259 and A27 including the Strategic Road Network via which through traffic should be directed. However at the former RAF Ford Airfield there is an industrial estate that generates substantial LGV traffic which is unsuitable for Ford Road and despite the sign post at exit from this industrial estate many LGV's use Ford Road as a rat run instead of travelling via the recommended lorry route.
Approximately two thirds of the local roads are country lanes, sometimes single-track, most subject to the national speed limit of 60mph. Even when this speed limit is not exceeded, many people are too frightened to walk, cycle or ride horses on these country lanes. Children in particular are kept as virtual prisoners, not allowed out unless with their parents. This has created the vicious circle that just to visit friends 10 minutes walk away, people get in their cars due to fear about cars, adding another car to the road increasing the fear about cars. There is an increasing weight of opinion that country lane speed limits should be reduced.


Figure (4.1) Vicious Circle of Traffic Growth, Rural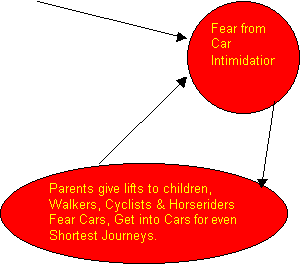 Within the town of Arundel, motor vehicles dominate. Much greater space is dedicated to motor vehicles than the narrow pavements for pedestrians.
To get around the town, pedestrians have to risk stepping into the hostile environment of the car.
The safety fears prevents parents from letting their children out on their own, restricting their freedom.
This also fuels a vicious circle: people do not feel safe walking and so they drive; having got in their car they may as well drive to bigger facilities with more variety such as out-of-town shopping centers and this starves Arundel's businesses of many who should be its natural customers.


Figure (4.2) Vicious Circle of Traffic Growth, Urban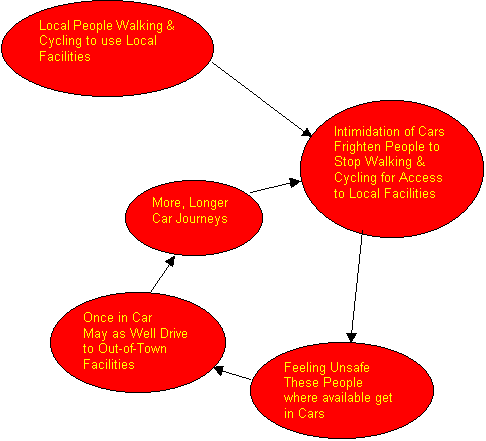 Fortunately for the economic well being of Arundel, the town is a major tourist attraction.
Many of the tourists come by car, which makes the streets an even more hostile environment, driving local people away.
The problem is exacerbated by a crazy parking situation where Arun District Council charges for use of car parks while West Sussex County Council allows on-street parking free of charge, subject to certain restrictions in some streets. Since many of the dwellings in the old part of town have no off-street parking their occupants are unable to park their cars due to tourists choosing free on-street parking outside residents' houses instead of using car parks, which only get used to capacity once all on street parking is used.
The road layout of the town draws vehicles to the High Street instead of leading them to the car parks, unnecessarily increasing traffic.
(4.7.2) DEMANDS OF ARUNDEL PEOPLE AND OFFICIAL REACTION
There is almost universal opinion that the speed limit should be reduced to reduce the hostile environment, both for country lanes and in town. The police object because they find it impossible to enforce current speed limits and so it would be ineffective. There is also anecdotal evidence that the majority of people who drive with excess speed are local people who "know" the road.
Residents of the old town who have no off-street parking often have great difficulty finding a parking place and would like residents' parking permits. There is also demand for on-street parking charges for non-residents to be higher than charges in the car park, with the first one or two hours free in the car parks to encourage use of the local shops and facilities while reducing the hostile street environment of vehicles driving around looking for a free parking space.
Council officials claim a residents' parking scheme is too expensive. Arun District Council (in charge of car parks) does not want to reduce prices thereby reducing revenue, whilst West Sussex County Council (in charge of on-street parking) prefers the cost to be "lost" in the general Highways budget. The two councils seem unable to co-operate to create an integrated parking policy.
There is growing demand for continuous walking routes, to reverse the current situation where pedestrians frequently have to cross the hostile road environment to reach their destination. This would be replaced by the motor vehicle having to cross a calmed pedestrian environment and give way to people on foot.
Council officials' prioritisation on safety follows accident statistics, hence the often-quoted exclamation that there has to be a death before anything is done.
Council officials are more amenable towards changing road priorities to lead vehicles away from shopping areas towards car parks by changing road layout, marking and signage, as this would incur relatively low costs. However, other towns in West Sussex are a much higher priority and so Arundel must wait indefinitely.
Through traffic, especially LGVs, should be discouraged from using the very unsuitable Ford Road. This suffers much damage (especially to pavements, bollards and parked cars) and there is also the problem of severe noise and vibration for houses that are very close to the narrow road. Sign posts are put up directing cars to use alternative routes to Ford Market and Car Boot Sale, there is also a sign at the exit of Ford Airfield Industrial Estate directing LGVs to the recommended lorry route (a copy is sent to all road hauliers). However, LGVs constantly make this residential area intolerable.
There is also demand for safe cycle routes. Sustrans is planning a leisure cycle route serving Arundel, but no thought appears to have been paid to the utility needs of cyclists for commuting, visiting shops or other facilities.
Top

(4.7.3) PROPOSED SOLUTION
Ø Offer a referendum to the people of Arundel and the surrounding villages for the following proposal.
Ø Separate Arundel and surrounding village local roads from West Sussex County Council management and separate the car parks from Arun District Council management.
Ø Give every resident of Arundel and surrounding villages an equal shareholding (similar to the way building society shares were distributed to their members).
Ø Set up the opening balance sheet showing all assets and liabilities.
Ø Set up a constitution for electing a board of directors and officers who will be responsible for managing the Arundel road network, complying with legislation and the wishes of the shareholders.
Ø Set up a financial system to allocate and pay all the costs imposed by the Arundel road network both direct and externalities, e.g. set up noise monitors to detect noise pollution, then pay those affected appropriate compensation.
Ø In the absence of direct tolls, set up a system of shadow tolls to finance the Arundel road network using axle counters which also measure axle weight, at all of the entrances to the Arundel road network and other strategic locations to measure the amount of damage therefore maintenance the roads will need as the basis for revenue to be paid from a road fund see (4.4).
Ø Set up contracts for the maintenance of the roads with standards set for safety, ensuring all property has constant access etc, with penalty clauses for failing to meet agreed standards set by Arundel Roads PLC or national requirements.
Ø Change the system of parking charges and restrictions to meet shareholder wishes.
Ø Obtain legislation for law enforcement to recover all of its costs from those convicted of breaking the law. Taxpayers, shareholders and law abiding motorists should not be expected to pay for a law enforcement system that would not be required if people did not break the law.
Ø Buy-in police services, e.g. from Sussex Police or British Transport Police, to meet agreed policing standards.
Ø Change speed limits as requested by shareholders. Install comprehensive coverage of speed enforcement cameras.
Ø Impose a weight limit on Ford Road or reintroduce a weight-based toll for LGV use.
Ø AGM to decide how to spend profits, how much to distribute as dividend for shareholders? How much to spend on road improvements, changing the layout of roads to draw vehicles into the car parks, create safe walking and cycle routes, or whatever the shareholders decide?
Ø Work with other road providers to develop a commercial road charging system to eliminate the need for shadow tolls paid from a road fund. See (4.11) Introducing a Commercial Road Charging System.

Back to SCAR Home Page